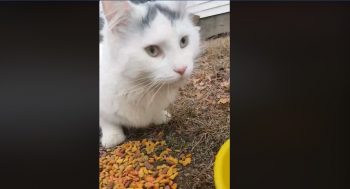 Do you recognize this cat?  It was found by Dudley resident Louise Chadborne yesterday afternoon in the Blue Heron Drive area of town.
In the video, the cat is described as "friendly" and "tempermental," not liking it's tail touched.
The cat is mostly white with a darker gray marking on it's head with one eye that is yellow and the other blue-ish yellow.
Miss Chadborne told 940 WGFP that she would have taken the cat inside, but it ran off before she could pick it up.  If it belongs to you, or someone you know, please get in touch with Louise on her Facebook page, posted below.  She was able to feed the cat and is keeping an eye out for it, hoping the owner can be located.
Found little please share

Posted by Louise Chadborne on Sunday, December 3, 2017