When:
October 23, 2021 @ 2:00 pm – 4:00 pm
2021-10-23T14:00:00-04:00
2021-10-23T16:00:00-04:00
Where:
Booklovers' Gourmet
72 East Main Street
Webster MA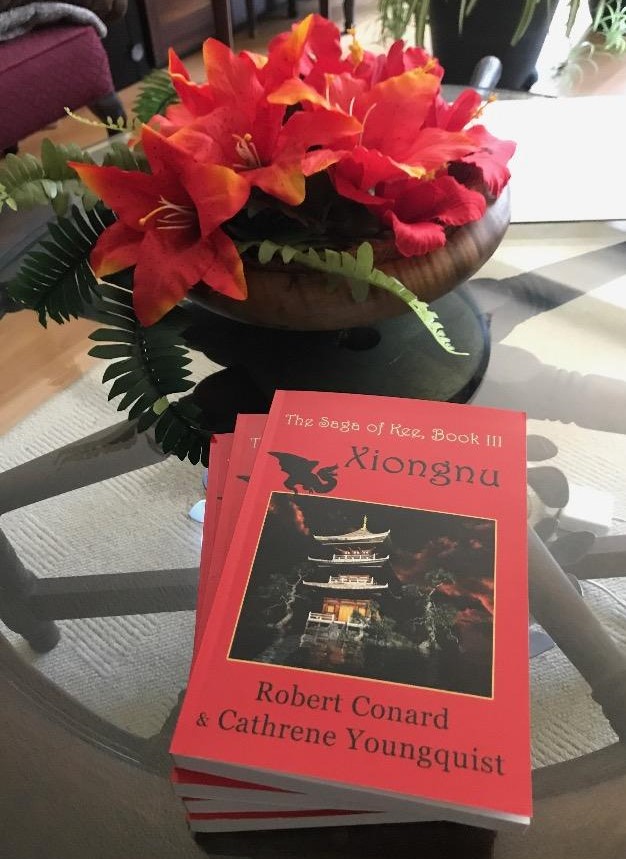 Saturday, October 23rd, 2-4 p.m. Fantasy Author event Xionqnu, Book 3 in the Saga of Kee series signing event with Robert Conard and Cathrene Youngquist at Booklovers' Gourmet, 72 East Main Street, Webster, MA. Free, books available for purchase. The first two books in the series, Book I Nogard and Book II Nubia, will also be available. Call 508-949-6232 or email deb@bookloversgourmet.com to reserve a space.
Xiongnu, a fast paced, YA/Adult fantasy-adventure novel, is a great read for all who love the power of dragons. This unique action-packed fantasy features strong female protagonists, historical facts woven into the rich tapestry of the tale, and dragon-napped hatchlings. Set in the time of the Vikings, the novel follows a diverse band of characters working together through many amazing adventures that span the globe.
Bio: Robert Conard 
Robert Conard was born in Columbus, Ohio in November 1939. He is a Navy veteran who served on a destroyer as a gunner's mate during the Cuban Missile Crisis.
Bob is an avid fisherman, and has written several periodicals for the New England Fisherman. In addition to the Saga of Kee series, he has also written several short stories. Sharks' Soup, taken from a personal experience in the drink; Jake's Springs; and The Flower of the Mashantucket are the best known. He currently lives in Guilford, Connecticut.
Bio: Cathrene Youngquist 
Cathrene Valente Youngquist is a retired educator and author of The Three Billygoats Gruff and Mean Calypso Joe, published by Atheneum Books for Young Readers. Her two YA/Adult poetry books: Island, Vignettes from Paradise and Caribbean Smiles invite all readers to experience Caribbean life on the island of Anguilla, where her family had a second home for over twenty-five years. She is an active member of SCBWI and the Connecticut Poetry Society. You will always find her with pen at the ready. Xiongnu is her first novel with Robert Conard.