How To Get Your Very Own Webster Strong T-Shirt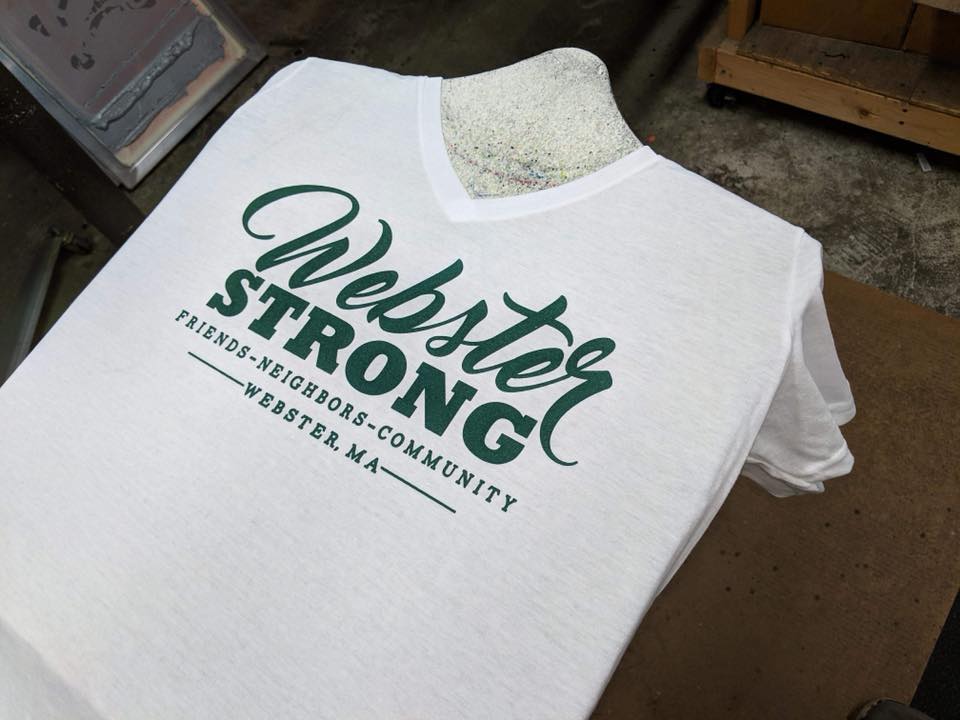 Hot off the presses at The Airbrush Shack in Thompson, you could be one of the first people in town to get your very own Webster Strong T-shirt, to benefit local businesses affected by the recent Webster tornado.
Tamara Beland from Get Your Local On started the online fundraiser with the goal of helping the establishments that were immediately impacted by the storm.  In less than 24 hours, over $5,000 had been raised.  In the days following, Dave Laabs from The Airbrush Shack had the idea to design a logo, and print the shirts for the community to show their support.   Now the total is over $8,000 in donations.
Tamara says, "As we move through this process of donating our funds to local small businesses, we are making sure each business is comfortable receiving funds and with us sharing our support.  It is amazing to see how much so many people have come together to support each other and how many businesses in town are giving to this fund."
This particular fundraiser is committed to helping the small local businesses, but here is another way to help those that have lost their homes.  The Webster Tornado Relief Fund was set up at Webster First Federal Credit Union.  All donations  to that fund will go directly toward assisting displaced residents. There is also a Salvation Army located in the plaza next to Aubuchon Hardware in Webster that is accepting donations and allowing those in need vouchers to pick up as many items as they need.
If you'd like to receive your very own Webster Strong t-shirt, you can pre-order yours, by making a donation of $15 or more on the Facebook site below.  THE LAKE 940 will also be live on location this Sunday from 2-6PM at Kretschmann Brewery & Beer Garden at 9 Frederick Street in Webster where you can pick up your shirt, or make a donation.
Matt and Marty will be on hand to provide live entertainment during the afternoon.
You may have seen Kretschmann's amazing video of the tornado ripping apart their beer tent on local or national news.  If you missed it, check it out below.
Webster Tornado North Side of Beer Garden

Here is another tornado video. This one is from a camera on the north side of the building. You can get a good look at the furniture under the tent, the ballast barrels, and the fire tables. All the furniture was cable locked to the tent legs so that is why it didn't all fly away (and why it all survived). You can definitely see the power of the wind as it ripped through the beer garden. It tumbled a fire table and knocked over a 400 lbs ballast barrel. Also, on the rooftop in the foreground, you can see what looks like a very confused spider crawling about. It must have been freaking out!

Posted by Kretschmann Brewery & Beer Garden on Wednesday, August 8, 2018