2019 Webster Area Memorial Day Parades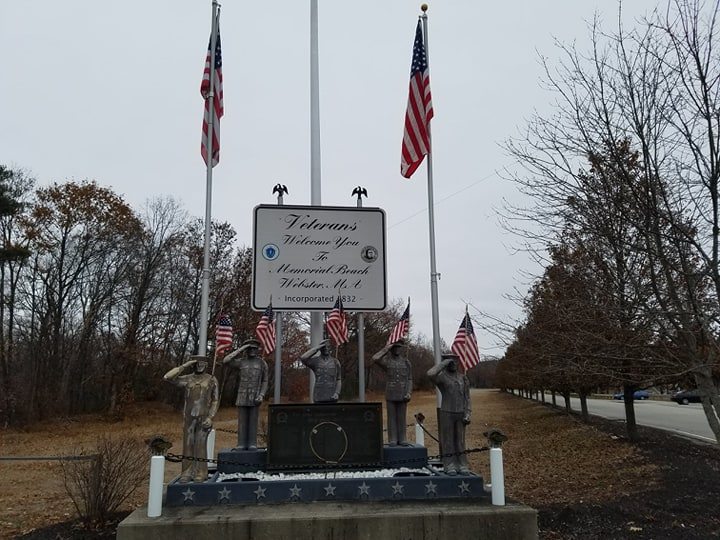 Memorial Day Weekend is here, and to most people, it is the unofficial start to Summer, but it is more than just cookouts and an extra day off.  It is a day designed to honor the men and women who died while serving in the U.S. military.
Veterans and their families from the Webster-Dudley area are invited to attend a Memorial Mass at Sacred Heart Church at 18 East Main Street in Webster on Sunday, May 26 at 11 AM.  Upon the conclusion of the Mass, all Veterans will proceed to Holy Trinity Cemetery on Old Boston Road in Dudley to render Memorial Day weekend honors around noontime.
The following communities will experience some road closures from time to time this weekend as area parades take place.
WEBSTER
In Webster, there will be a Memorial Day Parade on Monday, May 27th starting at 11 AM.  The route will start near the entrance to St. Anthony Cemetery on Worcester Road, and proceed down Route 12, to East Main Street, onto South Main Street, concluding at Town Hall on Main Streets.  These roads will be closed periodically during this time.  The ceremony at town hall is expected to begin around 12 Noon.
For more detailed information on 2019 Memorial Day Parade click here.
AUBURN
The Chester P. Tuttle American Legion Post 279 is hosting their annual Memorial Day Parade.  The parade will begin at 10AM on Monday, May 27th at the corner of Auburn Street and Bryn Mawr Avenue.
CHARLTON
Charlton's annual Memorial Day parade will be held, rain or shine, at 2PM on Monday, May 27th.  Participants will march to the Town Library from Overlook Health Center.
DOUGLAS
The town of Douglas will hold their annual parade at 1:30PM on Sunday, May 26th beginning at the corner of Main and West Streets.
EAST BROOKFIELD
The East Brookfield Memorial Day parade will begin at 11AM on Monday, May 27th at the Memorial Town Complex on Connie Mack Drive.  The parade will travel east on Route 9 to Evergreen Cemetery, where a service will be held. The parade will continue down Main Street to Pleasant Street, with closing ceremonies at the Veterans Memorial at Depot Square.
LEICESTER
The parade and ceremony will begin at 10:30 AM, heading north on Pleasant Street to the Town Common, where the ceremonies will be held.  Parking is available in the Town Hall lots, as well as the Becker College lots next to the Town Hall.  Leicester Police ask you to expect and plan for traffic delays during this event.
NORTHBRIDGE
The Northbridge Memorial Day Parade begins at 10AM at Church and Granite Streets in Whitinsville.  The parade will travel to Memorial Square for the continuation of services. Church Street will be closed at Granite Street to Memorial Square for the duration of the parade. Please seek an alternate travel route.
OXFORD
The Veterans of Foreign Wars, Oxford Post 5663, has organized this year's Memorial Day activities on May 27th.  Beginning at 10:30 AM, the parade will depart the American Legion Post 58 and end at the VFW Post 5663.  The parade will make the following stops to render honors: The Town Hall (Civil War Memorial), World War I Memorial, Revolutionary War, and World War II Memorials and the Korean and Vietnam War Memorials.
PUTNAM
The annual Putnam Memorial Day Parade will step off at 10AM on Monday, May 27th beginning at Grove Street and ending at Rotary Park.
SOUTHBRIDGE
The Southbridge Veterans Council will begin their observances on Monday, May 27th beginning at 8:30AM at the G.A.R. Monument in front of Town Hall.  A salute will follow and the parade will start at 9AM.  The parade will leave Elm Street and travel down Main Street and Hamilton Street to the Hyker Monument continuing to Hook Street onto Foster Street, North Street and Mechanic Street to the Rotary on East Main Street.
STURBRIDGE
The annual Memorial Day Parade will begin at the intersection of Route 148 and Route 20 at 9:45AM. The parade will proceed on Route 20 eastbound, pause momentarily in front of the American Legion and then proceed up Arnold Road.  This section of the road will be closed during the parade (approximately 20-25 min) The second parade will begin at the Public Safety Complex on Route 131 at 10:55 AM and will proceed to the North Cemetery.  This section of the road will be closed during the parade (approximately 15 min).  Sturbridge Police suggest that you seek alternate routes to avoid traffic delays.
SUTTON
The Sutton parade will begin at 11:15 AM at Sutton Common near Town Hall and proceed to Sutton High School on Memorial Drive for an 11:45 AM program and a flag-raising ceremony at 12 noon.
THOMPSON
The Thompson Memorial Day Parade steps off from Town Hall at 9AM.
UXBRIDGE
The parade steps off at 9AM from Whitin Elementary School.
For a list of what's open and closed on Memorial Day click here.