FINAL: Bartlett 42 – Southbridge 0 [PHOTOS]
With temperatures in the teens, and wind chills below zero on Thanksgiving morning, fans of Bartlett High School's Indians and Southbridge High School's Pioneers braved the cold to watch the 99th annual Thanksgiving Day football game.  Likely, the coldest Thanksgiving Day game ever between these 2 teams.
As one fan, Abbi Poplawski posted, "Tradition over everything."
Bartlett was quickly off to a 16-0 lead in the first quarter.  During the game Superintendent Ruthann Goguen wished everyone a Happy Thanksgiving on Twitter and thanked the people in attendance for braving the cold.  She told us on Tuesday that the town was providing heaters for people to stay warm, and the game was not going to be postponed due to the weather.
By halftime, Bartlett's lead over the Pioneers increased to 28-0.  At the end of the 3rd quarter, the Indians moved the lead even further to 42-0.
The final score would remain the same.  Bartlett 42, Southbridge 0.  One commenter on Facebook, Carol Choinere Allen wrote, "Wow! That's not the way the score went when I was at BHS 1976-1980."
Congratulations Bartlett Indians!  Go home, warm up and spend some time with family and enjoy some turkey.
Other high school rivalry games from around the area that played last night include the Oxford Pirates over the Bay Path Minuteman 22-6, Northbridge Rams beating Uxbridge Spartans 29-6, Grafton Indians blanking the Millbury Woolies 28-0 and Shepherd Hill Rams squeaking out a 35-34 win over the Tantasqua Warriors.
Thanks to Katie Purcell for sharing this selfie from the sidelines.  More photos below.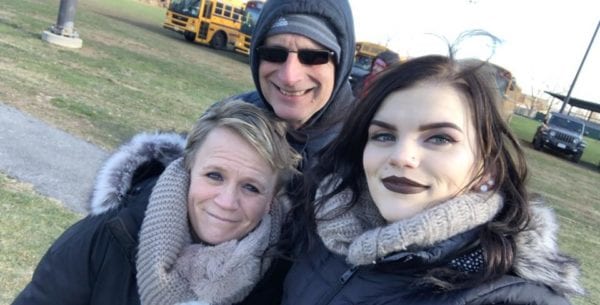 @WCVB Bartlett High School vs Southbridge High School- 99th annual thanksgiving game. Tradition over everything 🦃 pic.twitter.com/5RKDfZiVPz

— abbs (@abbipoplawski) November 22, 2018
Bartlett is winning 16-0! Thanks to all the fans for braving the cold! Be safe and GO Bartlett! Happy Thanksgiving! pic.twitter.com/LZToBPby8n

— SuperintendentGoguen (@WebsterSuperrg) November 22, 2018
Bartlett halftime show. Way to go pic.twitter.com/lnyVOcaoRE

— Monique Pierangeli (@mpierangeli22) November 22, 2018
We are ready! Go Indians!!!! pic.twitter.com/WsPdCQVlEe

— SuperintendentGoguen (@WebsterSuperrg) November 21, 2018