Get 'Goods For Guns' Today In Worcester County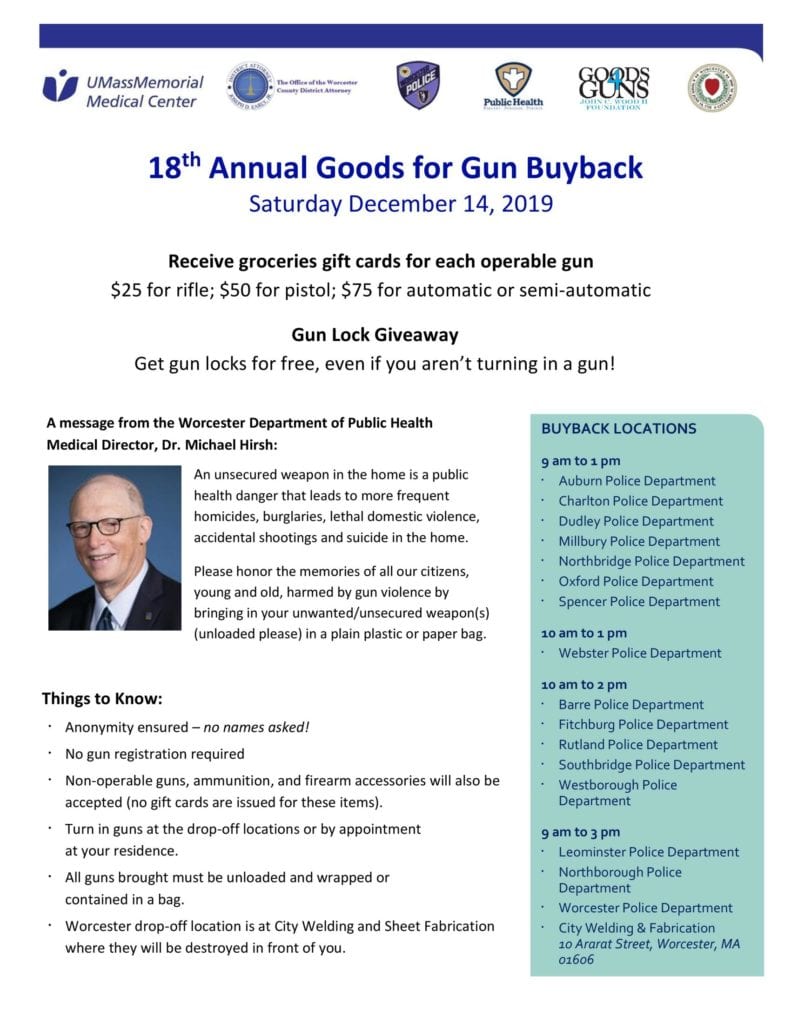 On Saturday, December 14th, many area police departments will be taking part in a "Goods For Guns" campaign.  Local residents with unwanted or unsafe firearms will be able to take them to a participating police station and trade them in for gift cards for local supermarkets.
For each operable gun, you will receive $25 per rifle, $50 per pistol and $75 for automatic or semi-automatic weapons.  This program, sponsored in part by the Worcester County District Attorney's Office, is designed to prevent injury or death from guns in local homes.
Registrations or licenses for these weapons are not necessary during this time and the program is anonymous.  Free gun locks are also available to those who request them.
It is important to note, all guns turned in during this program are to be unloaded and wrapped in packing material or a bag.
Each department has their times posted below for Saturday, December 14:
Webster Police Department
357 Main Street
Webster, MA
10 AM to 1 PM
Dudley Police Department
71 West Main Street
Dudley, MA
9 AM to 1 PM
Oxford Police Department
503 Main St
Oxford, MA
9 AM to 1 PM
Charlton Police Department
85 Masonic Home Road
Charlton, MA
9 AM to 1 PM
Auburn Police Department
416 Oxford Street
Auburn, MA
9 AM to 1 PM
Southbridge Police Department
1 Mechanic Street
Southbridge, MA
10 AM to 2 PM
Northbridge Police Department
1 Hope Street
Whitinsville, MA
9 AM to 1 PM
Millbury Police Department
127 Elm Street
Millbury, MA
9 AM to 1 PM
Barre Police Department
655 South Street
Barre, MA
10 AM to 2 PM
Fitchburg Police Department
20 Elm Street
Fitchburg, MA
10 AM to 2 PM
Leominster Police Department
29 Church Street,
Leominster, MA
9 AM to 3 PM
Northborough Police Department
211 Main Street
Northborough, MA
9 AM to 3 PM
Rutland Police Department
242 Main Street
Rutland, MA
10 AM to 2 PM
Spencer Police Department
9 Main Street
Spencer, MA
9 AM to 1 PM
Westborough Police Department
2400 Computer Dr
Westborough, MA
10 AM to 2 PM
City Welding & Fabrication
10 Ararat Street
Worcester, MA 01606
9 AM to 3 PM
Worcester Police Department
9-11 Lincoln Square
Worcester, MA
9 AM to 3 PM
More information on the "Goods for Guns" program can be found here.