Grand Re-Opening Of McDonald's In Webster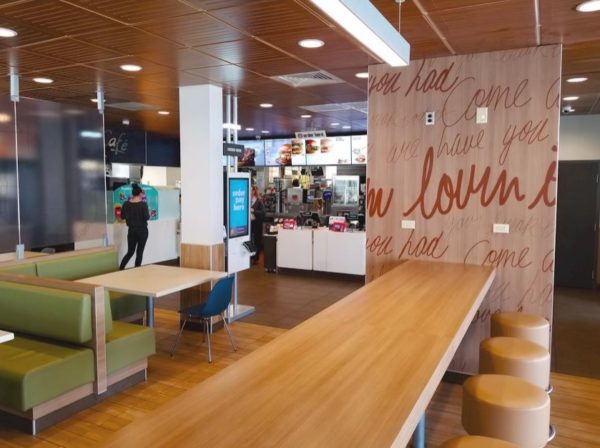 You are invited to the grand re-opening of Webster's McDonalds, located at 44 East Main Street.  The celebration begins with ribbon-cutting on Wednesday, May 30th at 10AM.
The new look of the restaurant is being unveiled with the help of Miss Nashoba Valley, Aubrie Przybys, Webster Town Administrator Doug Willardson, State Representative Joe McKenna, State Senator Ryan Fattman, Chairman of Webster's Board of Selectmen Andrew Jolda and personalities from THE LAKE 940.
The new McDonald's in Webster is putting more choice and control in the hands of customers, giving them the opportunity to use new self-order kiosks, have your meal delivered right to your table and a double-lane drive-thru for faster service.  Customers can pay at the self-order kiosks, or order at the traditional counter if they prefer.   New technology like Apple and Android Pay are also being used at this location.
The first 100 customers at 10AM on May 30th will be receive a free Big Mac, and everyone in attendance will be eligible to register to win other great prizes that will be given away when the month-long grand re-opening celebration ends on July 14th.  Some of those items include a 2-year lease of a Nissan Sentra, a 49 inch television, mountain bike and tickets to see Boston's baseball team play.
Since this McDonald's is locally owned and operated it will be a true community event with many local groups participating in the festivities.  The National Anthem will be performed by Bartlett High School's Award-winning Show Choir, Impressions, a Flag-Raising Ceremony with The Webster-Dudley Veterans Council, and McDonald's owner/operators Joseph & Patricia Spadea, Vincent Spadea and David & Barbara Balducci will present a generous $1,000 donation to the Blessed Backpack Brigade, an organization that helps feed and clothe people in need.
We hope to see everyone at the Grand Re-opening celebration, Wednesday, May 30th at 10AM with THE LAKE 940.