Pursuit From Webster To Dudley Ends In Driveway, Officer Injured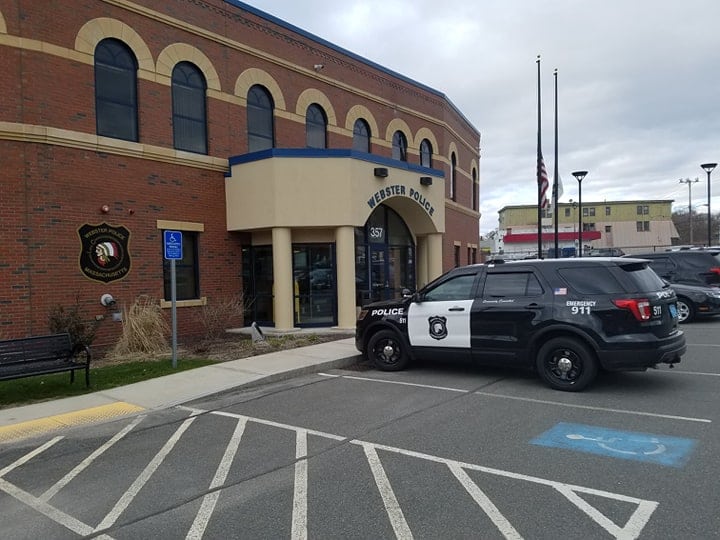 At around 10 PM on Monday, September 13th, Webster Police tried to pull over a red Jeep that was traveling down Main Street with no headlights on.  After a failed pullover attempt, police followed the vehicle over the Dudley line where officers there provided assistance.
After stopping at a red light at the intersection of Route 12 and Schofield Avenue, police again tried to get the driver out of the vehicle but he continued driving.  The second pursuit ended as the motorist pulled into his own driveway on 4 First Avenue in Dudley, but the altercation did not end there.
Once at the driveway, officers ordered the man out of the Jeep, but he backed his car into the side of one of the police cruisers.
After a brief scuffle, police were forced to use a taser on the driver twice, which "had no effect" so the man was pepper-sprayed and taken out of the vehicle and into custody.
The driver, identified as 60-year-old James Giroux, was charged with Failure to Stop for Police, Driving with no lights on, Operating Under the Influence of intoxicating Liquor, Second Offense, Operating with a Suspended License, Resisting Arrest, Negligent Operation of a Motor Vehicle, Assault and Battery on a Police Officer, and Malicious Destruction of Property.
Giroux was held at the Webster Police Department and scheduled to be arraigned today in Dudley District Court.  One Dudley officer sustained minor injuries during the struggle.